I don't think I ever mentioned what sparked my current interest in fairies.
In the summer of 2021 we visited Southern Cassadaga Spiritualist Camp here in Florida, over by DeLand.
Neither of us is particularly spiritual or religious, but we were itching to get out and about after more than a year of lockdowns and isolation, so we chose Cassadaga as a more-or-less arbitrary stupid goal. It's a kitschy tourist destination (as well as a for-real spiritualist center) and it's close enough we could do a weekend visit.
We arrived Friday night and stayed in the Cassadaga Hotel. Saturday morning we went to a presentation about the origins of Cassadaga, the hotel, and the rise of spiritualism in the 19th century, which ended with a tour of the camp. We had our auras read and visited a nearby 'haunted history museum'.
After all of that it was only mid-afternoon so we wandered aimlessly around the camp, visiting several tiny parks. The map showed the Horseshoe Park and Fairy Trail, but it wasn't clear to me exactly what that was. And, considering the postage-stamp size of the other parks, I wasn't expecting much. But, since we had time and not much to do, we trekked over.
It was magnificent.
There's clearly a design, and elements that have been put into place by people tending the park, but there's also a strong vibe of emergent vernacular art. While there's a "frame" in place (pillars, signs, a maze, some furniture, designated areas (like a section for lots of garden gnomes)), many of the elements are contributed by visitors (beads, stickers, 'in memoriam' grafitti, random objects).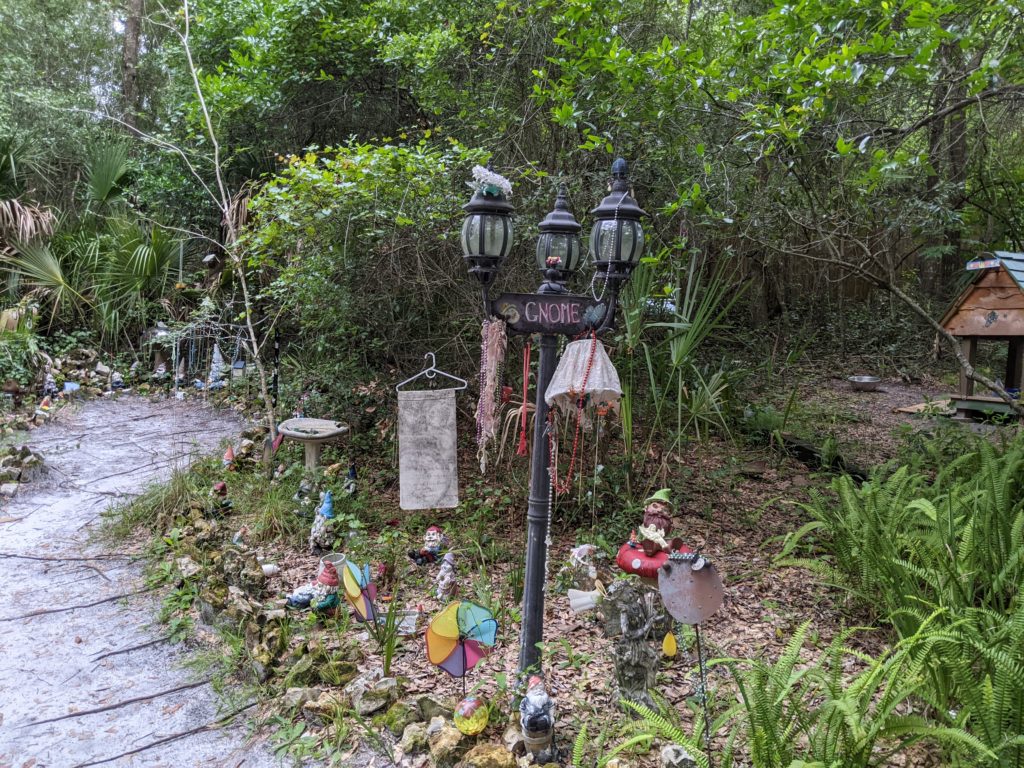 While we visited the camp as a kitschy tourist destination, spiritualism is a real faith and many of the visitors are interested in connecting with the spirit of someone they lost. Throughout the park are mementoes to those who have died, which gives the fairy park a sweet, sentimental aura.
Additionally, the park is large. We wandered around for at least 30 or 40 minutes, finding different nooks and crannies of weird outdoor art installations. Not many people were there when we visited, so it also had the air of a quiet contemplative space.
We found it so charming that on the way home we decided to put a fairy garden next to our house. There's an unused spot between the driveway and the fence, underneath a giant oak, we decided would be perfect for random bits of colorful junk arranged to be aesthetically pleasing.
At some point in the last 75 years the oak grew around a steel pole that had been stuck in the ground near it. Now there's what looks like a steel spike sticking out of the oak tree.
"The fairies aren't going to like that," I thought. "They don't like cold iron. What can I do to lessen the impact of this spike? It's embedded too deep to pull out." Knowing that fairies didn't like 'cold iron' exhausted my knowledge of fairies. As I was idly wondering if I should look it up to see if there's an answer for my steel-in-the-fairy-garden conundrum, I laughed at how my brain is research bent, and decided that by-gum I would research fairies, and I'd write a really long essay about what I learned.
The essay is coming along. There's a rich history to research. But it all started with an arbitrary stupid goal, an idle moment, and a little bit of boredom.
(100 Days of Blogging: Post 007 of 100)